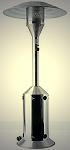 Outdoor

Gas Patio Heater

Robust, manually adjustable, elegant and made of precious material. Our example for mobile Gas Piato Heaters of high quality steel. Well-being for hours spread by the orbital reflecting shield. Approx. 2 ms tall, powered by liquid gas – there by independent from electricity, soundless and economical in its consumption.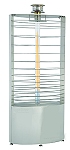 Outdoor

Special Gas Patio Heater and exclusive outdoor heating

A graceful designed and mobile "comforting blanket" with an adjustable slim shape – a fireplace with a perfect flame. An extravagant way of spreading warmth – high quality steel becomes gemstone – "finally warm feet and hands" – Women will love this form of sun.